Careers@Mainstay

Mainstay is an equal opportunity employer.

More importantly the Mainstay philosophy enshrines the vision of "Hire for Aptitude and Passion, train for skill". It is probably why we have a rigorous interview process across all layers of management and functional streams, continuous Training and Development mechanisms etc.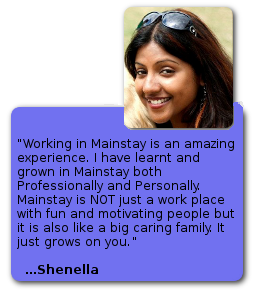 The Mainstay path to success has evolved out of moderate attrition and skill-set acceleration.

Middle and Senior Managers undergo Leadership and Competency Advancement Programs, and the list goes on.

Our motivational activities include Offsite Team Building Adventure Workshops, Activity Contests and a Fun Manager on the floor whose job is to keep the adrenalin high.

To find our current Job Postings Click Here